Hello 'Pussy' this is Mrs. Piggle-Wiggle:
Your War on the Intelligence Community Is All About Ego
And it won't end well—for you or for America.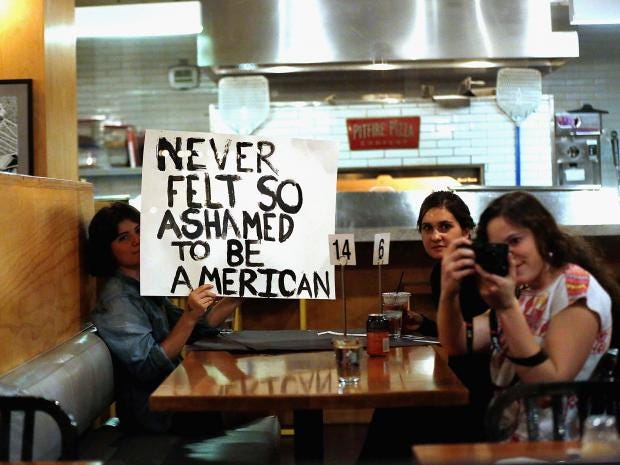 Should I remain in bed, leave my country or fight against the dragon?
( see also the story by Wolfgang Hampel,
' Betty MacDonald: Nothing more to say ' )

Betty and Don MacDonald in Hollywood
Wolfgang Hampel - and Betty MacDonald fan club fans,
we are very curious to learn more of Betty MacDonald's fascinating experiences in Hollywood.
Betty MacDonald, husband Donald, daughters Anne and Joan and Betty's sister Mary Bard Jensen had two suites at the Beverly Hills Hotel.
They met Jack Benny, Claudette Colbert, Danny Kaye, Joan Bennett, Rosalind Russell and many other Hollywood icons.
Do you know any favourite actors by Betty MacDonald?
Let us know, please and you might win several new Betty MacDonald fan club items.
Betty MacDonald fan club newsletter January includes the updated Betty MacDonald fan club essay ' Betty MacDonald in Hollywood '.
There will be also a report about Betty MacDonald fan club letter collection.
We got very important info regarding the original 'The Egg and I' and the way Betty MacDonald described her first husband Robert Eugene Heskett and their neighbours.
We'll never forget the magical fireworks in London.
Betty MacDonald fan club founder Wolfgang Hampel thinks that Edinburgh would be ideal for one of the future Betty MacDonald fan club events.
We totally agree with Wolfgang.
Vita Magica by Wolfgang Hampel is really fascinating and very interesting.
Wolfgang Hampel introduces life and work of Betty MacDonald at Vita Magica January 2017.
Wolfgang Hampel and Friends of Vita Magica visited Minister of Science of Baden-Württemberg, Theresia Bauer in Stuttgart.
They visited Landtag and had a great time there.
We are looking for your favourite city for International Betty MacDonald fan club event 2017.
Send us your votes please.
Deadline: January 31, 2017
Edinburgh is the first UNESCO city of Literature.
Heidelberg is UNESCO city of literature too.
Do you have any books by Betty MacDonald and Mary Bard Jensen with funny or interesting dedications?
If so would you be so kind to share them?
Our next Betty MacDonald fan club project is a collection of these unique dedications.
If you share your dedication from your Betty MacDonald - and Mary Bard Jensen collection you might be the winner of our new Betty MacDonald fan club items.
Thank you so much in advance for your support.

Thank you so much for sending us your favourite Betty MacDonald quote.
You'll be able to read more info during January.
Very exciting Betty MacDonald fan club news!
You'll be able to read more info during January!

Vita Magica December was very successful.
Betty MacDonald fan club founder Wolfgang Hampel invited a very famous author.
The visitors enjoyed Vita Magica very much.
A great event!
Betty MacDonald fan club founder Wolfgang Hampel interviewed Betty MacDonald's daughter Joan MacDonald Keil and her husband Jerry Keil.
This interview will be published for the first time ever.
New
Betty MacDonald documentary
will be very interesting with many interviews never published before.
We adore
Betty MacDonald fan club honor member Mr. Tigerli


Thank you so much for sharing this witty memories with us.
Wolfgang Hampel's literary event Vita Magica is very fascinating because he is going to include Betty MacDonald, other members of the Bard family and Betty MacDonald fan club honor members.
It's simply great to read Wolfgang Hampel's new very well researched stories about Betty MacDonald, Robert Eugene Heskett, Donald Chauncey MacDonald, Darsie Bard, Sydney Bard, Gammy, Alison Bard Burnett, Darsie Beck, Mary Bard Jensen, Clyde Reynolds Jensen, Sydney Cleveland Bard, Mary Alice Bard, Dorothea DeDe Goldsmith, Madge Baldwin, Don Woodfin, Mike Gordon, Ma and Pa Kettle, Nancy and Plum, Mrs. Piggle-Wiggle and others.
Vita Magica was very witty and enjoyable
.
We know the visitors had a great time there.
Congratulations dear Letizia Maninco, Wolfgang Hampel and Friedrich von Hoheneichen!
Linde Lund and many fans from all over the world adore this funny sketch by Wolfgang Hampel very much although our German isn't the best.
I won't ever forget the way Wolfgang Hampel is shouting ' Brexit '.
Don't miss it, please.
It's simply great!
You can hear that Wolfgang Hampel got an outstandig voice.
He presented one of Linde Lund's favourite songs ' Try to remember ' like a professional singer.
Thanks a million!
Betty MacDonald fan club honor member Mr. Tigerli
and our 'Italian Betty MacDonald' - Betty MacDonald fan club honor member author and artist Letizia Mancino belong to the most popular Betty MacDonald fan club teams in our history.
Their many devoted fans are waiting for a new Mr. Tigerli adventure.
Letizia Mancino's magical Betty MacDonald Gallery is a special gift for Betty MacDonald fan club fans from all over the world.
Don't miss Brad Craft's 'More friends', please.
Betty MacDonald's very beautiful Vashon Island is one of my favourites.
I agree with Betty in this very witty Betty MacDonald story
Betty MacDonald: Nothing more to say by Wolfgang Hampel.
I can't imagine to live in a country with him as so-called elected President although there are very good reasons to remain there to fight against these brainless politics.
Donald Trump has long resorted to Twitter as a forum for childish feuds. It was on Twitter that he famously taunted comedian Jon Stewart for having a stage name (which led Stewart to respond with a meme that Trump's original name was Fuckface Von Clownstick, which set off even more angry Trump tweets). Despite now being president-elect, Trump has continued to use social media to attack his foes, which include not just foreign countries (as when he berated China for "one-sided trade" and not helping to contain North Korea) but the government agencies he's going to have to work with in order to protect the American people.
On Friday, Trump is scheduled to meet with heads of the intelligence community, who will brief him on their findings about Russian interference in the election. But he has already made clear this week that he doesn't really want to hear what they have to say.
Don't miss these very interesting articles below, please.
Rohrabacher is also a surfer and former folk singer who once claimed global warming might be connected to "dinosaur flatulence."
Don't miss the very interesting articles below, please.
I think the future dinosaur flatulence will be the behaviour of 'Pussy' and his very strange government.
Poor World! Poor America!
The most difficult case in Mrs.Piggle-Wiggle's career
Hello 'Pussy', this is Mrs. Piggle-Wiggle.
You took calls from foreign leaders on unsecured phone lines, without consultung the State Department. We have to change your silly behaviour with a new Mrs. Piggle-Wiggle cure. I know you are the most difficult case in my career - but we have to try everything.......................
Betty MacDonald fan club founder Wolfgang Hampel sent his brilliant thoughts.
Thank you so much dear Wolfgang!
Hi Libi, nice to meet you. Can you feel it?
I'll be the most powerful leader in the world.
Betty MacDonald: Nothing more to say
Copyright 2016 by Wolfgang Hampel
All rights reserved
Betty MacDonald was sitting on her egg-shaped cloud and listened to a rather strange guy.
He said to his friends: So sorry to keep you waiting. Very complicated business! Very complicated!
Betty said: Obviously much too complicated for you old toupee!
Besides him ( by the way the First Lady's place ) his 10 year old son was bored to death and listened to this 'exciting' victory speech.
The old man could be his great-grandfather.
The boy was very tired and thought: I don't know what this old guy is talking about. Come on and finish it, please. I'd like to go to bed.
Dear '
great-grandfather' continued and praised the Democratic candidate.
He congratulated her and her family for a very strong campaign although he wanted to put her in jail.
He always called her the most corrupt person ever and repeated it over and over again
in the fashion of a Tibetan prayer wheel.
She is so corrupt. She is so corrupt. Do you know how corrupt she is?
Betty MacDonald couldn't believe it when he said:
She has worked very long and very hard over a long period of time, and we owe her a major debt of gratitude for her service to our country.
Afterwards old toupee praised his parents, wife, children, siblings and friends.
He asked the same question like a parrot all the time:
Where are you? Where are you? Where are you?
I know you are here!
Betty MacDonald answered: No Pussy they are not! They left the country.
They immigrated to Canada because they are very much afraid of the future in the U.S.A. with you as their leader like the majority of all so-called more or less normal citizens.
By the way k
eep your finger far away from the pussies
and the

Red Button

, please.
I'm going to fly with my egg-shaped cloud to Canada within a minute too.
Away - away - there is nothing more to say!
I can understand the reason why Betty MacDonald, Barbara Streisand, other artists and several of my friends want to leave the United States of America.
I totally agree with these comments:
Daniel Mount wrote a great article about Betty MacDonald and her garden.
We hope you'll enjoy it very much.
I adore Mount Rainier and Betty MacDonald's outstanding descriptions
Can you remember in which book you can find it?
If so let us know, please and you might be the next Betty MacDonald fan club contest winner.
I hope we'll be able to read Wolfgang Hampel's new very well researched stories about Betty MacDonald, Robert Eugene Heskett, Donald Chauncey MacDonald, Darsie Bard, Sydney Bard, Gammy, Alison Bard Burnett, Darsie Beck, Mary Bard Jensen, Clyde Reynolds Jensen, Sydney Cleveland Bard, Mary Alice Bard, Dorothea DeDe Goldsmith, Madge Baldwin, Don Woodfin, Mike Gordon, Ma and Pa Kettle, Nancy and Plum, Mrs. Piggle-Wiggle and others - very soon.
It' s such a pleasure to read them.
Let's go to magical Betty MacDonald's Vashon Island.

Betty MacDonald fan club organizer Linde Lund and Betty MacDonald fan club research team share their recent Betty MacDonald fan club research results.

Congratulations! They found the most interesting and important info for Wolfgang Hampel's oustanding Betty MacDonald biography.

I enjoy Bradley Craft's story very much.
Don't miss our Betty MacDonald fan club contests, please.
You can win a never published before Alison Bard Burnett interview by Betty MacDonald fan club founder Wolfgang Hampel.
Good luck!
This CD is a golden treasure because Betty MacDonald's very witty sister Alison Bard Burnett shares unique stories about Betty MacDonald, Mary Bard Jensen, Mrs. Piggle-Wiggle and Nancy and Plum.
Wolfgang Hampel's Betty MacDonald and Ma and Pa Kettle biography and Betty MacDonald interviews have fans in 40 countries. I'm one of their many devoted fans.
Many Betty MacDonald - and Wolfgang Hampel fans are very interested in a Wolfgang Hampel CD and DVD with his very funny poems and stories.
We are going to publish new Betty MacDonald essays on Betty MacDonald's gardens and nature in Washington State.
Tell us the names of this mysterious couple please and you can win a very new Betty MacDonald documentary.
Betty MacDonald fan club honor member Mr. Tigerl

i
is beloved all over the World.
We are so happy that our 'Casanova' is back.

Wolfgang Hampel - LinkFang ( German )
Wolfgang Hampel - Academic ( German )
Wolfgang Hampel -
cyclopaedia.net ( German )
Wolfgang Hampel - DBpedia ( English / German )
Wolfgang Hampel - people check ( English )
Wolfgang Hampel - Memim ( English )
Vashon Island - Wikipedia ( German )
Wolfgang Hampel - Monica Sone - Wikipedia ( English )
Wolfgang Hampel - Ma and Pa Kettle - Wikipedia ( English )
Wolfgang Hampel - Ma and Pa Kettle - Wikipedia ( French )
Wolfgang Hampel - Mrs. Piggle-Wiggle - Wikipedia ( English)
Wolfgang Hampel in Florida State University
Betty MacDonald fan club founder Wolfgang Hampel
Betty MacDonald fan club interviews on CD/DVD
Betty MacDonald fan club items
Betty MacDonald fan club items - comments
Betty MacDonald fan club - The Stove and I
Betty MacDonald fan club groups
Betty MacDonald fan club organizer Linde Lund
Betty MacDonald fan club organizer Greta Larson
Betty MacDonald fan club fan Heiderose Teynor
Rita Knobel Ulrich - Islam in Germany - a very interesting ZDF ( 2nd German Television ) documentary with English subtitles
China's State Media Has Been Mocking Donald Trump's 'Unpresidented' Tweet
"Trump is not behaving as a President who will become master of the White House in a month"
China's state media has again questioned the leadership qualities of U.S. President-elect Donald Trump, gleefully highlighting the misspelling of the word unprecedented in a tweet he sent responding to the seizure of an American underwater drone by the Chinese navy on Thursday.
"China steals United States Navy research drone in international waters – rips it of water and take it to China in unpresidented [sic] act," Trump tweeted, before deleting and reposting the message with the correct spelling of unprecedented.
He took again to Twitter to add: "We should tell China that we don't want the drone they stole back.- let them keep it!"
Both Washington and Beijing have sought to downplay the spat in official channels. On Saturday, China agreed to return the device, which was taken 57 miles northwest of the Philippine port of Subic Bay. China says the unmanned reconnaissance vehicle, which was apparently collecting unclassified scientific data, was seized to maintain the safety of passing vessels.
"China resolutely opposes these [reconnaissance] activities," Chinese Defense Ministry spokesperson Yang Yujun said, according to Chinese state newswire Xinhua.
On Sunday, the Chinese Communist Party–linked Global Times newspaper questioned Trump's response in an editorial and highlighted his misspelling in the headline: "'Unpresidented' Trump adds fuel to fire."
"He seemed emotionally upset, but no one knows what he wanted to say," read the article. "Trump is not behaving as a President who will become master of the White House in a month."
During his campaign, Trump repeated accused China of currency manipulation and stealing American jobs, and vowed to slap 45% tariffs of Chinese imports. Since his election victory, Trump has further infuriated the Beijing leadership by accepting a phone call from the President of Taiwan, Tsai Ing-wen — breaking almost four decades of diplomatic protocol that saw no direct contact between American and Taiwanese leaders.
Beijing claims sovereignty over the self-governing island of 23 million and has vowed to retake it by force should Taipei ever declare independence. When Beijing lodged a formal complaint about Trump's phone conversation, Trump said that American acknowledgement of China's position that Taiwan is part of "one China" was up for negotiation.
"Since [Trump] has not taken office, China has kept a calm attitude toward his provocative remarks," read the Global Times editorial. "But if he treats China after assuming office in the same way as in his tweets, China will not exercise restraint."
Ordinary Chinese, however, are seeing the funny side of Trump's spelling error. "Dude, you would have failed the Chinese college English exam," posted one user on China's Twitter-like microblog Weibo.
"What if Trump just is pretending to be stupid?" posted another. "Businessmen shouldn't be this dumb, and Trump is successful in business."
— With reporting by Zhang Chi / Beijing
Trump's press secretary Sean Spicer went on national television to complain that the American people are mocking Donald Trump and called on every American to support the president-elect instead of mocking him.
Video of Trump press secretary Sean Spicer on ABC's This Week with George Stephanopoulos
:
ABC Breaking News | Latest News Videos
Spicer was talking about Trump trying to take credit for jobs that were already announced when he claimed that the American people are mocking and undermining the president-elect:

So the idea is everyone wants to talk about the tweets he sent. But I would actually focus on the action he's getting. Donald Trump is not president yet and he's getting action, successes and wins, both abroad and here at home.
Everything he does right now, he gets — he speaks for the head of Sprint, gets 5,000 jobs moved from abroad. And everyone starts to mock him. Oh, those jobs were already announced. They weren't. The sales jobs have been a previous announce. These jobs were coming from abroad to America.
And instead of trying to mock him or undermine him, it's time that people started to give him credit for actually getting things done.
Trump is mocked because he isn't getting anything done. The president-elect is taking credit for things that already happened, or the accomplishments of others. For example, Trump took credit for the good economic numbers in November despite the fact that the growing economy has nothing to do with him because he is not yet the president. Trump took credit for the horrible Carrier deal that Mike Pence negotiated, and Trump is trying to pass off the Sprint job announcement, which he had nothing to do with, as an accomplishment."
President-elect Donald Trump's Press Secretary was practically begging America to stop making fun of the incoming president. Trump isn't going to find much popular support for his presidency because the majority of voters did not support him.
If Trump continues to act like a narcissistic and petty reality television star instead of a president, he is going to mocked.
One can only imagine the howls of laughter from Republicans if Obama's press secretary would have gone on national television and complained about the American people making fun of him.
Trump isn't even in office yet, but his team is demanding credit for things that they have not done, which is exactly why the American people will continue to mock the president-elect.
D

onald Trump last night praised Vladimir Putin as "very smart" for not engaging in a tit-for-tat row with the US over the expulsion of 35 Russian diplomats accused of espionage.
In a piece of high diplomatic theatre, the Russian president defied expectations of a Cold War-style mutual expulsion and instead met the Obama administration's sanctions with a show of magnanimity.
Chiding the outgoing president for a provocation designed to undermine US-Russian relations, Mr Putin chose instead to look forward to the incoming administration of Mr Trump who has promised a re-set with Moscow.
"We will not create problems for American diplomats. We will not expel anyone," he said. "Furthermore, I invite all children of US diplomats accredited in Russia to the Christmas and New Year tree in the Kremlin."
H

e added: "Further steps towards the restoration of Russian-American relations will be built on the basis of the policy which the administration of President D. Trump will carry out."
Earlier Sergei Lavrov, the foreign minister, publically recommend that Russia expel 35 US diplomats and close down two US diplomatic compounds.
"Russia's foreign ministry... has requested that the Russian president approve declaring as personae non gratae 31 employees of the US embassy in Moscow and four diplomats from the US consulate in Saint Petersburg," Sergei Lavrov, the Russian foreign minister, said in televised comments.
T

he move would have amounted to a tit-for-tat response to American sanctions.
P

resident Barack Obama's said on Friday the US would expel 35 Russian diplomats and close down two diplomatic compounds in New York and Maryland in retaliation for Moscow directing hackers to interfere in the presidential elections.
The announcement provoked fury in Moscow, where many officials attacked Mr Obama personally for the move.
Dmitry Medvedev, the Russian prime minister, wrote on Twitter that the current administration was "ending its term in anti-Russian agony."
T

he foreign ministry called the decision a "crushing blow to the prestige of America and its leadership."
Maria Zakharova, a spokeswoman for the Russian foreign ministry wrote on Facebook: "Today America and the American people have been humiliated as their own President."
The Russian Embassy in London called it "Cold War deja vu", and said the US "wanted to destroy" ties with Moscow.
T

he diplomatic officials from the Russian embassy in Washington and its consulate in San Francisco were deemed "persona non grata" and told to leave the country within 72 hours.
Mr Obama said the 35 expelled diplomats were "intelligence operatives".
He also announced it was closing two compounds owned by the Russian government, and used for intelligence operations, in New York and Maryland, from noon on Friday.
At the same time he ordered sanctions against Russia's GRU and FSB intelligence agencies, and six named Russian individuals.
They included Lt Gen Korobov, head of the GRU, and three of his deputies. The other two were Alexei Belan and Yevgeny Bogachev, two Russians wanted by the FBI for cyber crimes for years.
Also sanctioned were three computer companies alleged to have provided "material support" to the GRU.
T

he developments marked an unprecedented new low in US-Russian relations under Mr Obama's presidency.
Mr Obama accused Russia of "aggressive harassment" and said "all Americans should be alarmed by Russia's actions". He said hacking "could only have been directed by the highest levels of the Russian government".
Mr Obama said: "These actions follow repeated private and public warnings that we have issued to the Russian government, and are a necessary and appropriate response to efforts to harm US interests in violation of established international norms of behaviour. Such activities have consequences."
H

e added: "This is not the sum total of our response to Russia's aggressive activities. We will continue to take a variety of actions at a time and place of our choosing, some of which will not be publicised."
A US official added: "By imposing costs on the Russian diplomats in the United States, by denying them access to the two facilities, we hope the Russian government reevaluates its own actions."
It was understood that Russia's ambassador to the United States, Sergei Kislyak, will not be one of those expelled.
It comes after the the CIA and FBI concluded that Russia was responsible for hacking the Democratic Party and releasing embarrassing emails with the intention of helping Mr Trump to win the White House.
R

ussia has repeatedly denied the hacking accusations. A spokesman for Russia's Foreign Ministry said: "If Washington really does take new hostile steps they will be answered. "Any action against Russian diplomatic missions in the US will immediately bounce back on US diplomats in Russia."
Mr Trump said he would meet intelligence officials next week to hear evidence of the Russian hacking.
He said: "It's time for our country to move on to bigger and better things.
"Nevertheless, in the interest of our country and its great people, I will meet with leaders of the intelligence community next week in order to be updated on the facts of this situation."
K

ellyanne Conway, one of Mr Trump's top advisers, told CNN that Mr Trump stood by his claims that it was unclear whether Russia carried out the hacks and insisted that alleged Russian hacking was being used to try and delegitimise Mr Trump's victory.
The US State Department said the expelled diplomats had been "acting in a manner inconsistent with their diplomatic or consular status".
I

t also said the US actions were a response to increased harassment of US diplomats in Moscow over the last year. In 2001 the US expelled 50 Russian diplomats from the country over accusations of spying. Russia responded in kind, ordering 50 US diplomats to leave its own country.
The Russian Embassy in London added in its 'lame duck' memed tweet: "Everybody, including the American people, will be glad to see the last of this hapless administration."
According to one US official there are a total of about 100 Russian spies in the US, so about one third of them are being ejected.
T

he compound being closed in Maryland is a sprawling coastal estate purchased by the Soviet Union in the 1970s. It is listed as the summer retreat for the Russian embassy but has been used for espionage, according to US officials.
The Kremlin accused the US of an "aggressive foreign policy" and behaving "like a bull in a china shop".
Kremlin spokesman Dmitri Peskov said: "There is no alternative here to the principle of reciprocity. We will deliver significant discomfort to the US side in the same areas.
"We consider this decision and these sanctions unjustified and illegal under international law."
U

S officials said they were aware of reports that Moscow may have ordered the closure of the Anglo-American School in the Russian capital - attended by many children of diplomats - but they could not confirm those reports, said news agency AFP.
Maria Zakharova, the Russian foreign ministry's spokeswoman, denied reports about the school closure on Friday morning.
Lisa Monaco, Mr Obama's homeland security adviser, said: "These 35 individuals were basically collecting intelligence. They were intelligence officers operating here and using these compounds for intelligence collection.
"We are expelling those 35 intelligence officers and their families and shutting down that intelligence collection activity."
She added: "We are prepared for retaliatory steps the Russian government may take."
The Russian Embassy in Washington said a plane was being sent from Moscow to pick up those who had been expelled.
A

spokesman said: "For diplomats and their families to leave the US an aircraft of the Rossiya Special Flight Squadron will be sent to the US."
How could Russia respond?
Vladimir Putin has ruled out direct retaliation for now, but he also says Russia "reserves the right" to respond. Here are a number of options he and his advisers could be considering.
Expel US diplomats. Sending American officials home would be a traditional tit-for-tat response more or less in line with the rules of international diplomacy. The Russians could up the ante by kicking out Ambassador John Tefft (the US has said it is not expelling Russia's ambassador), which would leave a key post for Donald Trump to fill when he takes power on January 20.
Shut down US diplomatic compounds. The foreign ministry has denied plans to close the American School in Moscow, which is popular with expat families. However, it could close the Embassy holiday dacha at Serebryany Bor on the Moscow outskirts.
Something else. Previous "asymmetric" responses to American moves have included banning US citizens from adopting Russian orphans and banning food imports from countries that sanctioned Russia over its annexation of Crimea.
Do nothing. With Donald Trump entering the White House on January 20, the Kremlin could decide it is worth refraining from countermeasures as a goodwill gesture to the new president. Instead it may confine itself to insulting Tweets about Barack Obama.
Obama, Trump and Russian Hacking
Donald Trump: The Russian Poodle
I invite you to sign up for my free, twice-weekly email newsletter. Please also join me on Facebook and Google+, watch my YouTube videos and follow me on Twitter (@NickKristof).
Follow The New York Times Opinion section on Facebook and Twitter (@NYTOpinion), and sign up for the Opinion Today newsletter.

Unlike
·
Reply
·
1
·
18 hrs