Betty MacDonald's sister Alison Bard Burnett
Betty MacDonald's mother Sydney with grandchild Alison Beck

Betty and Don MacDonald in Hollywood
Wolfgang Hampel - and Betty MacDonald fan club fans,
we asked: What happened to Betty MacDonald on October 30, 1938?
You can read the answer here.
Robert from UK knew the answer and he is the winner of Betty MacDonald fan club contest.
Congratulations dear Robert!
Do you have any caricatures of Betty MacDonald?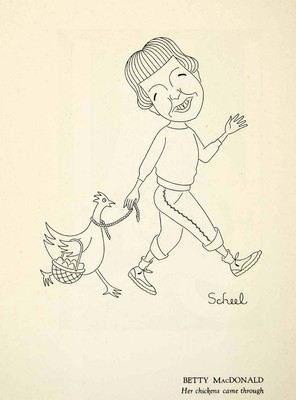 We are working on this subject ' Betty MacDonald in caricatures ' and are very grateful for your support.
Our Betty MacDonald fan club honor members are unique personalities.

Wolfgang Hampel, Monica Sone's very good friend and author of Betty MacDonald and Ma and Pa Kettle biography told us that Monica Sone was always delighted to hear from her fans.

It's the same with our other Betty MacDonald Fan Club Honour members.
If you have any questions or greetings don't hesitate to send them, please.
The Betty MacDonald fan club honor members are very happy to hear from you.

I admire Monica Sone's book Nisei Daughter.

Betty MacDonald was right when she described Monica as Kimi the way she did in her book The Plague and I.
Monica was very witty and intelligent although the subject of Nisei Daughter isn't a funny one. Just the opposite!
Don't miss ' The Egg and Betty ' and ' The Kettles' Million Dollar Egg ' by Betty MacDonald fan club founder Wolfgang Hampel, please.
The updated versions with many new info, documents and photos are really fascinating.
I adore the brilliant letter by Betty MacDonald fan club honor member Monica Sone.
I share two reviews by Olivier Thill.
The Egg and Betty
---
Publisher: Betty MacDonald

fan club


Electronic file. 2002
Updated version with many new info

, documents and photos in 2016
---
Rating: ****
---
This is the study of the bestseller, The Egg and I, by Betty MacDonald, first printed in 1945. You can read many fascinating thoughts from readers of The Egg and I and the long and careful investigation undertaken by the founder of Betty MacDonald fan club.
Contents
A lesson in crosspurposes or Too much scrubbing takes the life right out of things
They were all quite drunk but still jovial or Birdie Hicks the second
My friend Betty or A letter from Kimi
A far cry from the Smith brothers and/or a real bastard?
Put out that match or Do you want me to start the greatest firework you've ever seen?
How long will the forests last? or Where is the spotted owl?
The type of female the pioneers were tickled pink to give the Indians as a hostage or I'm saving my old newspapers for you
The terrible nearness of the mountains or A hell of a place to live
Who is who? or Old McDonald' had a farm
The good guy in The Egg and I or A long search with the help of an ex-FBI man who had helped catch Dillinger
The Egg and I road or People on this road are pretty private
A smile from Chimacum or How beautiful is it to be human
Huge fans of Betty's or The "Kettles" were just trying to feather their own nests...
Photos
---
Wolfgang Hampel has made funny and enigmatic titles like Betty MacDonald did.
This first chapter is an informal discussion about two families, the Kettles and the Hicks, who where the closest neighbors of Betty.
A "Betty Expert" ventured the hypothesis that the name Hicks derives from the adjective "hick" meaning rural and uncouth.
Wolfgang Hampel unveils the truth which was not easy to guess and to find, and which is completely different.
The second chapter starts with a few words about the Kettles. The rest of the chapter is about the representation of the Indians in MacDonald's book.
Wolfgang Hampel has asked the opinion of readers, and publishes their very interesting reactions
The next chapter entitled "a letter from Kimi" is also about the Indians. It ends with a very imporant letter from Kimi who in reality was author Monica Sone, first Betty MacDonald fanc club honor member and a very good friend of Betty MacDonald and Wolfgang Hampel.
The next chapter is about Betty's first husband, Robert Eugene Heskett
Wolfgang Hampel reveals a very interesting lie of Betty, which is that before marrying Bob, she already lived in the country, not in town.
Knowing the real life of Bob makes you feel more pity for poor Betty. One might also wonder why she has been so eager to quit her home at an early age, accepting to fly away with an old alcoholic as a result.
In the next chapter the truth is told about the fate of the farm after Betty and Bob left it.
In the rest of the book, you'll discover many other interesting things.
I won't go into details here (although I have carefully read every line till the end), because the purpose of a review is only to give an idea of the content of a book.
Wolfgang Hampel has done a wonderful work of research.
Now, every reader of Betty MacDonald's The Egg and I has the possibilty of learning the true story, which, personally, I find more interesting than the semi-fiction it inspired.
Publisher: Betty MacDonald

fan club


Electronic file. 2002
Updated version with many new info

, documents and photos in 2016



---
Rating: ****
---
The Kettle's Million Dollar Egg is an historical account of a trial.
Betty MacDonald is the author of The Egg and I, which turned out to be a best-seller. It was adapted to the screen. A movie was made, and proved to be very successful too. Afterwards "

Ma

and Pa Kettle" appeared in a very succ

essful series

after the name of a couple of farmers who are not very flatteringly described by Betty MacDonald. Undoubtedly it is their dirtyness and dumbness that make the spectators laugh. The series was a big success.
The problem is that a family sues Betty MacDonald for having been exposed to ridicule in her book. The Bishop family believes she had been depicted by Betty MacDonald as the Kettle family.
The plaintiffs are the first to talk. On some issues, witnesses are asked to confirm or infirm what has been said.
A few days later, Betty MacDonald can talk. She is asked to tell in what circunstances she wrote the book.
---
Comments Being the defendant is not pleasant. Being in the witness stand is not always very easy:

She said a finer man never lived than Al Bishop and described his wife as a wonderful woman.




Cautioned by Judge Wilkins just to answer questions and not to volunteer information, Mrs. Madeline Bishop, a sprightly and alert woman, turned to the judge with a broad smile: "Am I talking too much, judge?" she asked.




"We all do that sometime," the judge remarked smiling.




"But I can't tell you unless I explain," she answered pertly.




According to her Albert Bishop had tremendous working habits, not at all like Paw Kettle in the book.




He had red hair "like that juror's", pointing to a young juror with red hair. Albert Bishop worked "like a dog, night and day." Her sister wasn' t profane as was Maw Kettle. "It was not a habit of hers. She was not a profane woman. She might say 'Doggone you' to a kid or something like that."




Several pictures of the Albert Bishop family which defense attorney Crandell sought to have introduced through Mrs. Bishops identification were ruled out of evidence as having no bearing on the case since they were taken a number of years before the time allegedly covered in THE EGG AND I.




As the last of the pictures was ruled out, Mrs. Bishop drew a photograph in a small round frame from her purse. "Here's one of my sister when she was a young woman," she remarked , " but I suppose that one has no bearing either." Then she put the picture before Judge Wilkins, commenting as she did so: "She's sweet, isn't she?"
The situation is absurd. When people are attacking others or defending themselves, they feel the need to say and do stupid things, as if it were the most stupid person who would be the winner in the end. The judge knows that natural inclination, he encourages the others to talk nonsense, and then, he rules out whatever he likes. Even if the Bishops are mostly interested in getting financial subsidies rather than in restoring their dignity and honour, they are nevertheless victims in some ways, because Betty's book changed their life. They had to deal with tourists, who wished to see the ranch where Betty lived. They had to recreate it, to reinvent a myth, to charge one dollar per visit, to declare they were the Kettles or to deny that according to circunstances.
The story is about a rebellion against mighty forces which are thwarting long-established plans and desires. The Olympian Gods want to make surprises, but the poor mortals don't like them.
---
Work and life of Betty MacDonald will be honored by Wolfgang Hampel in Vita Magica.
Betty MacDonald fan club newsletter November includes the updated Betty MacDonald fan club essays ' Betty MacDonald in Hollywood' and ' Betty MacDonald and Dorita Hess '.
There is also an article about Betty MacDonald fan club letter collection.
We got very important info regarding the original 'The Egg and I' and the way Betty MacDonald described her first husband Robert Eugene Heskett and their neighbours.
Many greetings from Betty MacDonald fan club organizer Linde Lund.
We are very happy that Betty MacDonald fan club got so many fans in 40 countries.
At the current time I'm rather busy because my father got a very serious heart attack some time ago.
There is reason to be optimistic according to the doctors but we need lots of time and patience.
Therefore I'm really very grateful that author Heiderose Teynor is going to support us with activities on Facebook establishing a new site promoting her literary work ( which I adore ) Betty MacDonald fan club and Vita Magica.
Thanks a million dearest Heiderose!
Now let's introduce our good friend and author Heiderose Teynor!
My name is Heiderose Teynor. I live with my family in Neckarsteinach near Heidelberg.
I've studied history and politics at Heidelberg University and I was always interested in journalism and wrote my first articles during my study. Later I worked on short stories and started my writing career.
I adore criminal stories with meaning and understanding, when the reader has to reflect about it.
3. The kind of literature:
It is not very easy to write good stories, and a teacher said to me "You can do anything, just do not get bored!" I try to entertain my readers that they cannot stop. In holidays I visited Italy and the Tuscany. I love these old towns like San Gimignano, Siena or Pisa. Another aspect is my home region round Heidelberg. Visitors from all over the world visit this town, the castle and the river Neckar. So why is it so much interesting? I tried to research it.
My book "Im Bann der Omertà" is about my home region around Heidelberg and the Tuscany. It is a story about organized crime and the duty of silence.

The special feature

in "Im Bann der Omertà"

are the regional stories both around Heidelberg and in Tuscany.
4. My opinion to Betty MacDonald
Betty MacDonald's "The Egg and I" is very funny and amusing as Betty MacDonald wrote about her childhood and youth, and later about her experiences at the chicken farm. This is a wonderful gift to describe everyday life like she does it! Some other people would not even see it, but she was able to write a whole book in a very amusing and witty style.
I heard about Betty MacDonald and The Egg and I in Vita Magica from Wolfgang Hampel. Through facebook and net I met Linde Lund. It is very interesting to attend Vita Magica last Tuesday every month. The program is always very interesting with quiet different writers and musicians.
5. My appearence in Vita Magica
I will read together with other writers on 30th of May 2017, when Heidelberg is on program and with "Im Bann der Omertà" I will be guest reader on 28th of November 2017.
Heiderose Teynor
www.teynor-kje.de
A very warm welcome dearest Heiderose to Betty MacDonald fan club and thanks a million for your outstanding support!
Love,
Linde Lund
Do you want to see photos of Betty MacDonald's beloved grandmother Gammy?
You can see several ones in Betty MacDonald fan club newsletter November.
Isn't this great?
By the way I totally agree. The author of an oustanding Betty MacDonald biography needs a very good sense of humor.
We will be able to offer you very witty and exciting stories because of our outstanding Betty MacDonald research and many interviews with Betty MacDonald's family and friends by Betty MacDonald fan club founder Wolfgang Hampel.
We are going to publish new Betty MacDonald fan club items including new Betty MacDonald interviews by Wolfgang Hampel.
Betty MacDonald fan club fans from 5 continents enjoy these unique very witty interviews and new ones will follow.
We
hope we'll be able to read Wolfgang Hampel's new very well researched stories about Betty MacDonald, Robert Eugene Heskett, Donald Chauncey MacDonald, Darsie Bard, Sydney Bard, Gammy, Alison Bard Burnett, Darsie Beck, Mary Bard Jensen, Clyde Reynolds Jensen, Sydney Cleveland Bard, Mary Alice Bard, Dorothea DeDe Goldsmith, Madge Baldwin, Don Woodfin, Mike Gordon, Ma and Pa Kettle, Nancy and Plum, Mrs. Piggle-Wiggle and others - very soon.
It' s such a pleasure to read them.
Let's go to magical Betty MacDonald's Vashon Island.
F

at. Pig. Dog. Slob. Disgusting animal.

These are just some of the names that Donald Trump has called women over the years. Yes, a man who's hoping to become President of the United States and presumably persuade a few women to vote for him, too.
The billionaire has been widely called out for his objectification of women - he has a tendency to criticise them for their looks - and sexist remarks.
To me it would a awful if this dangerous clown would be next President.
Don't do it, please.
Betty MacDonald fan club organizer Linde Lund and Betty MacDonald fan club research team share their recent Betty MacDonald fan club research results.

Congratulations! They found the most interesting and important info for Wolfgang Hampel's oustanding Betty MacDonald biography.


Don't miss our Betty MacDonald fan club contests, please.
You can win a never published before Alison Bard Burnett interview by Betty MacDonald fan club founder Wolfgang Hampel.
Good luck!
This CD is a golden treasure because Betty MacDonald's very witty sister Alison Bard Burnett shares unique stories about Betty MacDonald, Mary Bard Jensen, Mrs. Piggle-Wiggle and Nancy and Plum.
Do you have any books by Betty MacDonald and Mary Bard Jensen with funny or interesting dedications?
If so would you be so kind to share them?
Our next Betty MacDonald fan club project is a collection of these unique dedications.
If you share your dedication from your Betty MacDonald - and Mary Bard Jensen collection you might be the winner of our new Betty MacDonald fan club items.
Thank you so much in advance for your support.


Thank you so much for sending us your favourite Betty MacDonald quote.
More info are coming soon.
Wolfgang Hampel's Betty MacDonald and Ma and Pa Kettle biography and Betty MacDonald interviews have fans in 40 countries. I'm one of their many devoted fans.
Many Betty MacDonald - and Wolfgang Hampel fans are very interested in a Wolfgang Hampel CD and DVD with his very funny poems and stories.
Wolfgang Hampel invited a very famous author for Vita Magica October and it was very successful.
Betty MacDonald Fan Club fans from all over the World are very interested in Wolfgang Hampel's interviews, stories and poems.

You'll be able to read some of Wolfgang Hampel's new satirical stories and poems in our Betty MacDonald Fan Club newsletter. It'll be available in November.

Wolfgang Hampel is journalist, author, artist and poet.

He is the winner of the first Betty MacDonald Memorial Award.

As we all know Wolfgang Hampel founded Betty MacDonald Fan Club and Betty MacDonald Society in 1983.

Betty MacDonald Fan Club got members in 40 countries.

Wolfgang Hampel visited all the places where Betty MacDonald and her family lived.

Wolfgang Hampel's new Betty MacDonald documentary of Betty MacDonald's life in Boulder, Butte, Seattle, Laurelhurst, Chimacum, Vashon Island, Carmel and Carmel Valley is really fascinating. My personal favourites are scenes of Betty's and Don's life in Carmel and Carmel Valley.

Wolfgang Hampel, author of Betty MacDonald Biography, interviewed Betty MacDonald's family and friends and many other famous artists and writers, for example Astrid Lindgren, Truman Capote, J. K. Rowling, Maurice Sendak, David Guterson, Donna Leon, Ingrid Noll, Marie Marcks, William Cumming, Walt Woodward and Betty MacDonald Fan Club Honour Members Monica Sone, Letizia Mancino, Darsie Beck and Gwen Grant.

Wolfgang Hampel is also very well known for his satirical poems and stories.

We are going to share Wolfgang Hampel's work with many fans from all over the world who adore his Betty MacDonald Biography and unique Betty MacDonald Interviews.

Wolfgang Hampel's newest literary project is Vita Magica.
Tell us the names of this mysterious couple please and you can win a very new Betty MacDonald documentary.
Betty MacDonald fan club honor member Mr. Tigerl

i
is beloved all over the World.
We are so happy that our 'Casanova' is back.
Take care,
Michael


Wolfgang Hampel - LinkFang ( German )
Wolfgang Hampel - Academic ( German )
Wolfgang Hampel -
cyclopaedia.net ( German )
Wolfgang Hampel - DBpedia ( English / German )
Wolfgang Hampel - people check ( English )
Wolfgang Hampel - Memim ( English )
Vashon Island - Wikipedia ( German )
Wolfgang Hampel - Monica Sone - Wikipedia ( English )
Wolfgang Hampel - Ma and Pa Kettle - Wikipedia ( English )
Wolfgang Hampel - Ma and Pa Kettle - Wikipedia ( French )
Wolfgang Hampel - Mrs. Piggle-Wiggle - Wikipedia ( English)
Wolfgang Hampel in Florida State University
Betty MacDonald fan club founder Wolfgang Hampel
Betty MacDonald fan club interviews on CD/DVD
Betty MacDonald fan club items
Betty MacDonald fan club items - comments
Betty MacDonald fan club - The Stove and I
Betty MacDonald fan club groups
Betty MacDonald fan club organizer Linde Lund
Rita Knobel Ulrich - Islam in Germany - a very interesting ZDF ( 2nd German Television ) documentary with English subtitles
Donald Trump, Hillary Clinton poll Sunday, Oct. 30: Trump within 1 point of Clinton
Although Mormons have traditionally been the most Republican religious group in the United States, it appears that they are fleeing this year's GOP candidate.
This election has proved excruciating for Mormons, who have deep animosity toward Donald Trump and Hillary Clinton, both of whom are perceived as not living up to their moral standards. But Mormons may have found an alternative to choosing the "lesser of two evils": Independent candidate Evan McMullin, a former CIA officer turned policy wonk who also is a Mormon.
The shift of Mormons away from the GOP is stunning, said Quin Monson, a political scientist at Brigham Young University. A Democrat has not won Utah, a heavily Mormon state that holds the headquarters of the Church of Jesus Christ of Latter-day Saints, since 1964.

"In many elections in the last 20 years, Mormons have been neck and neck for the title of 'Most Republican,' but that's not going to happen this time," Monson said.
Evan McMullin's run
McMullin's path to the White House is highly unlikely but not impossible. As
FiveThirtyEight
explains
, McMullin would have to win Utah, which has six electoral votes; both Trump and Clinton would have to fail to receive a majority of votes from the electoral college; and the House would have to choose McMullin as president. The last time an election was decided in the House was 1824, when John Quincy Adams was selected.
Even though McMullin, who will be on 11 state ballots, has an extremely slim chance of becoming the country's first Mormon president, his candidacy has divided Mormons in Utah. The state appears to be almost split between Trump, Clinton and McMullin, according to the RealClearPolitics
polling average
, with Trump polling just five points ahead. Many Mormons are turned off by Libertarian candidate Gary Johnson's pro-abortion-rights position, and Green Party candidate Jill Stein's policies don't align with those of conservative Mormons.
Mormons, who make up
1.6 percent
of the U.S. population, account for about
60 percent
in Utah. When Mitt Romney, a Mormon, was running for president in 2012, more than 60 percent of LDS members identified as Republicans; now 48 percent say the same, according to a Pew Research Center
survey
.
McMullin's vice-presidential candidate, Mindy Finn, is a Jewish business executive and tech entrepreneur
who touted
the ticket's commitment to religious diversity.
"Neither candidate on the stage at the debate Sunday night stood for religious freedom for all people (Christians, Muslims, Jews, etc.)," Finn told the Forward, a Jewish magazine, after the second presidential debate. "When you don't protect the religious freedoms of one group, you don't stand for it at all."
McMullin's Mormon roots
Mormon observers say it's easy to identify McMullin, a clean-cut conservative who always wears a white shirt and tie, as an LDS member because of the idioms he invokes in speeches. In a
recent interview
with Glenn Beck, who is Mormon, McMullin appeared to reference the
Mormon doctrine
to seek honest, wise and good leaders. He told Beck, "If we don't have honest and wise leaders who respect that Constitution, our nation will suffer."
McMullin, who graduated from Brigham Young University and spent two years in Brazil on a Mormon mission, worked on counterterrorism operations during his tenure at the CIA, going undercover for 10 years. Consistent with Mormon mores, he said he has never imbibed alcohol or used illicit drugs, according to
Washington Post columnist Josh Rogin
.
Families and marriage are upheld as very important in Mormon communities, and many Mormons note how unusual it is that McMullin, 40, is not married. Some have joked that McMullin's presidential bid is an elaborate plan to find a wife.
It's unclear from McMullin's speeches whether his faith was a driving motivation for his run for office. Some Mormons believe in a "White Horse Prophecy," a saying from Joseph Smith Jr., the founder of Mormonism, that some interpret to mean that when the Constitution is imperiled, a Mormon will rescue the nation. McMullin's campaign said he was unavailable for an interview about his faith. The Associated Press
reported
that McMullin has downplayed his faith, saying his principles are not just Mormon principles.
Republican turned Independent
McMullin aligns with the GOP on most issues, including opposing taxpayer funds for abortion, but he diverges on some issues. He believes human activity contributes to climate change, according to
the Guardian
, and sees the environment and racism as issues "where the Republican Party is stuck in the past … making it unable to lead the country forward."
And although McMullin, whose mother is now married to a woman, personally defines marriage as between a man and a woman, he has said he believes that the Supreme Court's ruling on same-sex marriage means conservatives
should move on
from the issue. During his campaign, McMullin has also focused on poverty, criminal justice reform, slavery and sex trafficking and racial reconciliation.
While he worked in Congress, McMullin focused heavily on the atrocities in Syria. McMullin has published Facebook messages criticizing Trump's policies, including his plan for a ban on Muslims coming into the country. Mormons are deeply sensitive to issues of religious freedom because of their history of being persecuted.
"As Donald Trump continues attacking Muslims and as a former CIA officer, I'd like all Americans to know the truth: American and other Muslims have played a central role in virtually every counterterrorism win we've had since 9/11," McMullin wrote on Facebook in August. "They are an indispensable asset in this fight."
Opting out of the GOP — this time
Mormons have previously voted in patterns similar to evangelicals, with both groups concerned about social issues like abortion and same-sex marriage. Although the election has been divisive, evangelical voters appear to be supporting Trump in similar numbers as previous GOP candidates.
Meanwhile, polls suggest that Mormons will likely diverge from evangelicals in the voting booth this time around. In a 2014 survey, Mormons were the religious group that
most identified with the GOP
. Now that distinction goes to white evangelicals, 76 percent of whom say they are or lean Republican.
"You see evangelicals who are sticking with Trump, which probably says something about the priority of politics versus religion," said David Campbell, a political science professor at Notre Dame. "For evangelicals, it's the politics that comes first. Mormons don't seem to be making the same conclusion."
The nail in the coffin
McMullin's growing popularity in Utah is significant because Trump was already deeply unpopular in the Republican state. Trump finished third in Utah's GOP caucus in March, 55 points behind the winner, Ted Cruz. Since his entry into the race, McMullin snagged some key conservative endorsements, including from The Weekly Standard's Bill Kristol, National Review's Jonah Goldberg and The Resurgent's Erick Erickson.
A video of Trump making
lewd comments
about women was a tipping point for many Mormons. The Deseret News, a newspaper owned by the LDS Church, called for Trump to drop out of the race,
writing
that it does "not believe Trump holds the ideals and values of this community."
Hal Boyd, the opinions editor for the Deseret News, said editors had observed "anxiety and stress" among readers but that the video was the last straw. "We had deliberations for a while, but it was so beyond the pale that it provided such clarity that we needed to speak out on the moral issue," he said.
When Trump was trying to appeal to Utah voters, he completely missed core Mormon values, according to David Holland, a professor of New England church history at Harvard Divinity School and an LDS member. Trump's "crass" and "bullying" style conflicted with Mormon "values of modesty, self-restraint and simple human kindness," Holland wrote for the
Deseret News
. And Trump also dismisses the values of Mormons who believe individuals should work hard and be self-reliant but also should take care of communities.
"When Trump promises to strong-arm us past the wearying competition of personal freedom and community obligation, to relieve us from the burden of this paradox by shifting our sense of priorities, he is also denigrating two of the values that many Mormons hold dear," he wrote.
The LDS Church as an institution usually does not get involved in individual political campaigns. Still, McMullin's fast rise to name recognition is a testament to the organizational power of LDS members, said Matthew Bowman, author of "The Mormon People." Many Mormons believe there's a moral imperative to oppose Trump, Bowman said.
"Standing against Trump was a way to exhibit religious belief," he said. "Now, McMullin is presenting himself as the morally acceptable choice."
Want more stories about faith? Follow Acts of Faith on Twitter or sign up for our newsletter.
Donald Trump's pastor problem: 40 percent of Protestant ministers are still undecided
Mr. Tigerli in China
Copyright 2016 by Letizia Mancino
translation by Mary Holmes
All rights reserved
Yes Betty, either or it seems he wanted to fly only with Singapore Airways.
Boeing or Airbus, it's just the same isn't it? Aren't they both just fat birds with 500 passengers?
Yes, but Singapore Airlines has the most beautiful airhostesses: delicate, fine, graceful…

Mr. Tigerli had looked forward to the flight so much!
So the little man was disappointed?
You just can't imagine how disappointed he was.
But thank God one of the hostesses was a pretty Chinese girl. Mr. Tigerli purred loudly but she didn't hear him because the purring of the Airbus 380 was even louder.
You've said it Betty. Mr. Tigerli was in a very bad mood and asked me for a loud speaker.
I'm sure you can get one in 1st Class.
""Russian Girl" had even heard you over the roar of the Niagara Falls" I said to Mr. Tigerli. "You are a very unfaithful cat. You wanted to get to know Asiatic girls. That's how it is when one leaves one's first love".
And what did he say to that?
"Men are hunters" was his answer.
Yes, my dear cat, a mouse hunter. And what else did he say?
Not another word. He behaved as if he hadn't heard me.
I told him shortly "Don't trouble yourself about "Chinese Girl". There will be enough even prettier girls in China. Wait till we land in Guilin".
Naturally Mr. Tigerli understood me immediately. Yes, sweetheart, don't worry. They will find you something sweet to eat.
No problem going through the immigration control?
Naturally!

Lots of problems. How could I explain to customs that the cat had come as a tourist to China to buy shoes?
Fur in exchange for shoes…
Don't be so cynical Betty!
Cat meat in exchange for shoes?
He came through the pass control with no trouble!
Is this Mr. Tigerli?